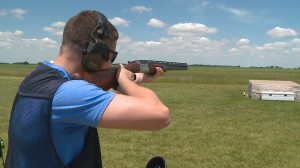 Wichita State Trapshooting Coach Tom Binyon saw the need for High School trapshooting teams in Kansas when trying to recruit future Shockers. But it didn't take long to get teams on board, because it's a sport anyone can play.
He explained, "My greatest thrill is to take a student-athlete who has never shot before and work with them and see them improve steadily and really have fun doing it."
At a tournament each athlete shoots 50 targets, the best score takes home the title. The top 18 scores for each team are combined to calculate team scores.
Calli Pirner, a Wichita Collegiate sophomore, explained, "How it works is there's the trap house right there, and all those stations right there set up. There's 5 stations, you have 1 person at each station. Basically it's just all counted up and that's how it's scored."
This sport attracts kids that may not play traditional team sports because it requires a different skill set.
"There's so many things that go into being able to shoot it. You have to be able to track it, not get distracted by anything, like a bird or something flying by. You have to have a lot of concentration." said Wichita Collegiate Freshman Bailey Gibbs.
Athletes from all 19 schools will be locked and loaded this weekend looking to win their team the first ever state title.
"I love everything about it honestly, but it's just like knowing that you're know you're able to do something like that… It's just so cool," said Gibbs. "It's something you never would think you'd be able to do so it's nice to represent the school."
http://www.kake.com/home/headlines/Nearly-200-student-athletes-to-complete-at-i-381811911.html
WICHITA, Kan. (KAKE)
Posted: Fri 7:13 PM, Jun 03, 2016
By: Rachel Kilmer